CHAPTER FOURTEEN
ORGANIZATION OF THE TEXAS 20009TH AFJROTC CADET GROUP
14.1 The following charts reflect the Cadet Group organization.  Organization charts break the functions of the Group down to specialized tasks.  The responsibilities associated with each task are found in the corresponding job description in chapter 16 of this Guide.  Each cadet should become familiar with all of the job descriptions to gain a more complete understanding of those jobs as they relate to the total Group.
14.2 Any organizations success depends on how well each member performs his/her duties.  Responsibilities and duties increase with increasing grade.  Each cadet is expected to assume the duties and responsibilities of his/her position.
14.3 The organization charts reflect a CHAIN OF COMMAND by a solid line connecting the functions or positions.  Information, guidance, and decisions flow down the chain of command in the form of oral and written instructions.  Information and recommendations used by cadet leaders in decision making also flow up the chain of command.  Information flow and coordination between lateral functions are also necessary for efficient staff functioning.  Unless there is a free communications flow throughout the organization, the Group will quickly become ineffective.
14.4 The relationship between Group staff officers and staff specialists within flights is shown by the appropriate chart in this chapter.  The solid line between the flight commander and each staff specialist represents direct supervision, while the dashed line connecting Group staff officers with flight staff specialists denotes coordination channels.
14.5 Authorized leadership positions are shown in the Unit Manning Document found in chapter 15 of this Guide.  Cadets must learn the duties and responsibilities of their assigned positions and should learn as much as they can about other positions in the Group.  Promotions will be based on job performance and potential for more responsible jobs.
14.6 Squadron Commander
The squadron Commanders will have an equal number of departments, under their command. The only circumstance for any Squadron to have more departments is that there is an uneven number of Departments and as new Departments arise the Squadrons will be equaled up. This is required so that all Squadron Commanders have equal responsibility.
14.6.1  Finance (FM)
14.6.1 FUNCTIONS AND RESPONSIBILITIES.  The Financial Management Officer conducts the financial operations of the cadet Group.
14.6.1.2 ACCOUNTING:  Responsible for the accurate accounting of Group funds. Prepares a weekly financial reports.
14.6.2 PLANNING & BUDGETING:  Prepares budget to cover planned Group activities. Plans, and supervises, all fund-raising activities to produce required funds.
14.7 Operations (DO)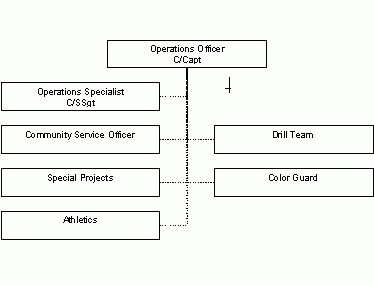 14.7.1 FUNCTIONS AND RESPONSIBILITIES.  The Operations Officer assists in coordination, planning and supervision of military co-curricular and social activities of the Group.
14.7.1.1 COMMUNITY SERVICE OFFICER: He/she will manage all community service activities for the Corps. He/she will also keep track of all Cadet Community service hours.
14.7.1.2 SPECIAL PROJECTS:  Plans, organizes and conducts Group participation in parades, military reviews, awards ceremonies etc. Coordinates the arrangements for field trips.
14.7.1.3 ATHLETICS:  Plans, organizes, and conducts athletic activities to promote high morale, esprit-de-corps, and recreation within the Group. Keeps records of Cadets athletic participation.
14.7.1.4 DRILL TEAM:  Plans, organizes, trains, and practices exhibition drill, regulation drill, and physical conditioning required for state and local competition.
14.7.1.5 COLOR GUARD:  Ensures training of team members and provides Color Guard and flag Detail for ceremonial, athletic events, parades and/or competitive purposes.
14.8 Personnel (DP)
14.8.1 The Personnel Officer is responsible for the timely and accurate initiation of cadet records and for all personnel actions.
14.8.1.1 CADET RECORDS:  Initiates personnel record folders on all cadets.  Maintains a complete and accurate cumulative record of cadet assignments, promotions, awards, etc.
14.8.1.2 SPECIAL ACTIONS:  Maintains current cadet Group organizational chart, unit manning document and cadet rosters.  Makes recommendations for assignments and promotions.  Organizes cadet boards.
14.8.1.3 EVALUATION:  Initiates and maintains performance evaluation records on all cadets.
14.9 Information Management (IM)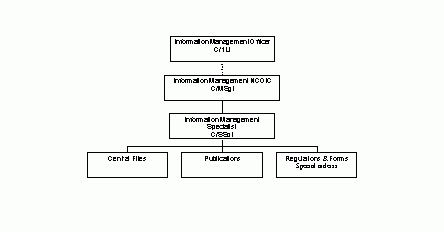 14.9.1 FUNCTIONS AND RESPONSIBILITIES:  The Information Management Officer provides administrative support for the Group  The Information Management Officer is responsible for the timely and accurate issuing of orders, for monitoring publications, for publishing regulations and forms, and serving as the record-keeping agency for the Group.
14.9.1.1 CENTRAL FILES:  Responsible for maintaining Group bulletin boards, the cadet library, and the Aerospace Technical Library.  Maintains administrative files to include staff meeting minutes, Group regulations, orders and forms.
14.9.1.2 PUBLICATIONS:  Responsible for Group printing.
14.9.1.3 REGULATIONS & FORMS:  Responsible for final drafting coordination of all Group directives and forms.
14.9.1.4 SPECIAL ORDERS: Information Management publishes all special orders.
14.10 Logistics (LG)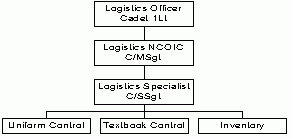 14.10.1 FUNCTIONS AND RESPONSIBILITIES.  The Logistics Officer ensures proper Air Force supply discipline in the custody, security, control and issuance of United States Air Force, Medina Valley High School, and TX-20009th Air Force Junior ROTC Cadet Operations Group property.
14.10.1.1 UNIFORM CONTROL: Assists the Military Property Custodian with the issue and securing of AFJROTC uniform items.
14.10.1.2 TEXTBOOK CONTROL:  Assists the Military Property Custodian with the issue, securing and maintaining of AFJROTC Texts, training publications and training aids.
14.10.1.3 INVENTORY:  Conducts periodic and special inventories of equipment and supplies, and maintains an inventory of required supplies. Identifies and assists in ordering supplies.
14.11 Public Affairs (PA)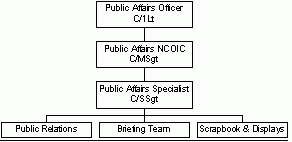 14.11.1 FUNCTIONS AND RESPONSIBILITIES. The Public Affairs Officer disseminates public relations information to the school, the Group, and the community about the AFJROTC program.
14.11.1.1  PUBLIC RELATIONS:  Reports the activities of AFJROTC to the school and local and national news media.  Provides input to the school newspaper and yearbook staffs.  Publishes corps newspaper.
14.12 Awareness Presentation Team (APT)
14.12.1 BREIFING TEAM: Coordinates and conducts the AFJROTC recruiting program at Medina Valley Middle School and within Medina Valley High School.  Develops a speakers bureau and maintains a pose of readiness so they may conduct briefings before parents, faculty, administrators and other school students/staff.
14.12.2 Manages Awareness Presentation Team selection, preparation and coordinates presentations.
14.13 Historian
14.13.1 SCRAPBOOK & DISPLAYS:  Responsible for maintaining a scrapbook of all AFJROTC activities at Medina Valley High School.  Prepares displays and keep AFJROTC bulletin boards neat and up-to-date. 
14.13.2 Prepares the Monthly/weekly (weekly is optional) Corps Newspaper.
14.14 Visual Information Officer
14.14.1 AUDIO-VISUAL:  Responsible for coordinating audio/visual (photographic/video) support for Group activities.  Ensures film is processed and returned to appropriate organizational unit (if applicable). Submits annual audio-video National Competition Entry
14.14 Recruiting Officer
14.14.1. The purpose of a recruiting program is for member cadets to seek qualified candidates from among their acquaintances, talk with them about AFJROTC, and recommend them for enrollment into the AFJROTC program.
14.14.2.  Quality and Quantity.  There are no academic requirements to enroll initially into the course, Cadets realize however there are academic requirements that must be met.  Those should be communicated to prospective members so they are not led into believing the course is an easy credit.  The number of cadets that may be enrolled is determined by the class schedules and facilities.
14.14.3.  Recruiting Periods.  Recruiting emphasis is placed on 8th graders during scheduling for 9th grade courses.  Emphasis is also given during Career Day at the Medina Valley Middle School.
14.14.4.  Who to Recruit.  Although students at any grade level will be accepted into the program, the benefits of enlistment and scholarships go to those who have had the course for three or four years.  Therefore, for the purposes of this Recruiting Program, only students entering their 9th or 10th grade year are considered to be valid recruiting referrals.
14.14.5.  Program Supervision.  The Group Commander will appoint a Recruiting and Retention Officer and NCO to organize and manage the recruiting effort. The Recruiting Officer will assist the Instructors in the feeder school recruiting programs.
14.14.6.  Candidate qualifications.  The following qualifications apply in order to receive credit for
               a new recruit:
    a. Will be a 9th or 10th grader at Medina Valley High School in the current or following school
         year.
    b. Not previously recommended by another cadet.  Referral date will be verified. Student cannot
        be someone who has enrolled in AFJROTC on their own, or without your influence.
    c. Candidates must be aware of the standards of behavior and not have a reputation of being a
       discipline problem.
    d. Candidates must understand the uniform wear and grooming standards and be willing to meet
        those standards.
    e. Must have your recommendation.  In other words, the person should be one you would like to
        have in your flight and contributing to its' success.
14.14.7.  Steps in Finding Prospects.  Obtain the necessary recruiting aids such as the unit Recruiting Brochures then follow these general steps:
a. Look among your friends, relatives and acquaintances for students who you think can meet the
    above qualifications.
    b. Using the recruiting aids, discuss the AFJROTC program with your prospect.
    c. If they are interested, with their permission, complete a PA771 Form 30, Cadet Recruiting
       Form. (See Attach. 16)
    d. Ask them if they know of others who could join with them.
e. If you need help or more information, be sure to notify an Instructor or the Recruiting Officer.
f.  Turn in the recruiting form to the Recruiting Officer or an Instructor.
g. Contact your prospect periodically to keep them interested until they can be scheduled for the
    course.
14.14.8.  Handouts and Recruiting Aids.  You may find the following material helpful in explaining the program.
    a. Cadet Guide.  This guide will be very useful in explaining many aspects of the program,
       including the course outline, benefits, awards, grooming, etc. (See Chapter 24)
    b. Handouts on:  Scholarships, Benefits, Questions & Answers, and the Recruiting Brochure (HO
       33-1).  Give these to the potential cadets.
     c.   Textbooks.  Use them to show what you are studying.
    d. PA771 Form 30, Cadet Recruiting Form.  Used in making the referral to the unit
       management system.
14.14.9.  Enrollment Procedures.  Prospects must enroll in AFJROTC through their Guidance
               Counselors.  Additionally, their parents or guardians should know and approve of them
               taking the course.  It is important they understand that they must take the action to enroll
               in AFJROTC, just like any other course selection.
14.12.10.   Recruiting Benefits.  The Air Force has provided a ribbon to reward those who are
                  successful in our cadet recruiting program.  The ribbon will be presented at CORPS
                  Formation as soon as possible.